What you can do with TotalCorner
---
Get access to comprehensive and user-friendly soccer stats.
Take advantage of TotalCorner's system generated tips.
Sell and buy tips published by other users.
... (more new features in future)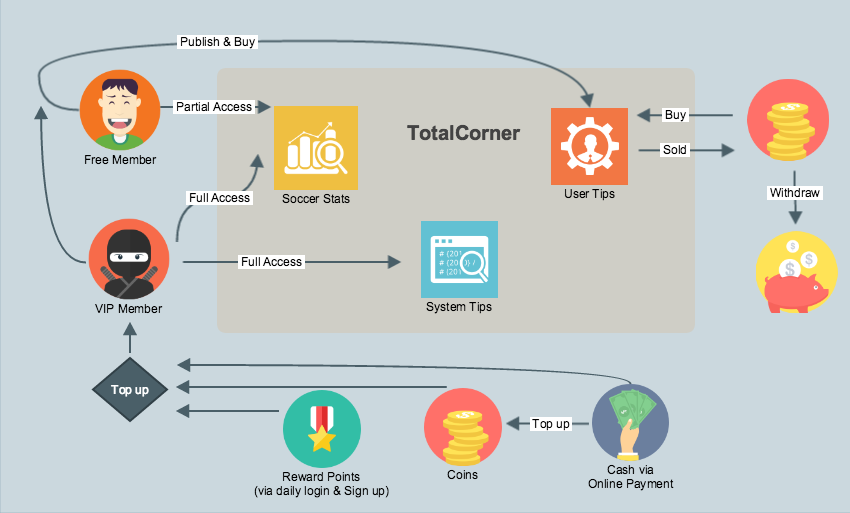 Free VIP & Referral
---
You can get free vip in following ways
1 days VIP for verifying you phone number.

3 days VIP when the customer you refered get their phone number verified.
Login and go to user center page, where you can verify phone number and find your referral link.
TotalCorner System Tips
---
TotalCorner tips are totally generated by our algorithms without man's interference.
The algorithm is trained and tuned based on TotalCorner's database. The algorithm takes several factors into calculation, such as score result, match facts of attacks and shots, odds from bookmakers, and so on.
Currently we have only published goal over, corner over and full-time result tips. Tips for other bet options are still in developing.
Goal Over tips
Matches with label Goal Over are more likely to have more goals than the line given by bookmakers, also more likely to have goals at last few minutes of match.
Over 1.5 Goals tips
Labels Over 1.5 is the Over 1.5 Goals tips.
Corner Over tips
Labels Corner Over is the pre-match Corner over tips.
Corner Under tips
Labels Corner Under is the pre-match Corner under tips.
Full-time Result tips
Labels 1X2 is the pre-match Full-time result tips.
TotalCorner Premium Tips
---
TotalCorner Premium tips are generated by the corperation work of TotalCorner algorithm and expert tipsters.
With the combination of big data analysis and human expert's insight of football games, we can gurantee that it's possible to consistly make profits from football betting.
The Premium tips only covered the most popular leagues. And it's pre-match tips. Easy for people to follow.
Membership
---
Free Member
Get particial access to the soccer stats.
Publish and buy user tips,view free user tips.
Get reward points, which can be used to redeem VIP membership.
Advanced Member
Get full access to the soccer stats and system tips.
Advanced features - customize view & scan match.
Free of Ads.
Pricing:

28 euro / 30 day, 5 euro / 1 day
28 coin / 30 day, 5 coin / 1 day
1000 points / 1 day
Premium Member
Get full access to the premium tips.
All the privileges of advanced member.
Pricing:
Coins & Points
---
Coins
Usage: coin can be used to buy membership and user tips.
Value: 1 coin = 1 euro.
Top up: through online payments.
Earn coins: user can publish tips with price. Once other users buy the tips, owner can get 70% of the price.
Withdraw: user can withdraw earned coins at anytime.
Points
Usage:

Points are the stake when publish tips.
Redeem VIP Membership.

Value: 1000 points can redeem 1 day VIP Membership.
Get points:

get 50 points daily after login.(only for email verified)
get 500 points after signup.