What you can do with TotalCorner
---
Get access to comprehensive and user-friendly soccer stats.
Take advantage of TotalCorner's system generated tips.
Sell and buy tips published by other users.
... (more new features in future)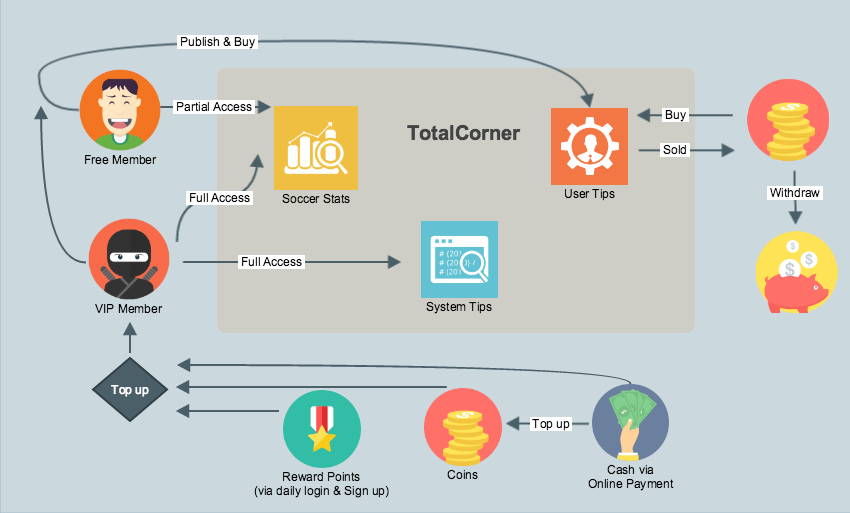 Membership
---
Free Member
Get particial access to the soccer stats.
Publish and buy user tips,view free user tips.
Get reward points, which can be used to redeem VIP membership.
VIP Member
Get full access to the soccer stats and system tips.
All the privilege of free member.
Pricing:

28 euro / 30 day, 5 euro / 1 day
28 coin / 30 day, 5 coin / 1 day
2500 points / 1 day
Coins & Points
---
Coins
Usage: coin can be used to buy membership and user tips.
Value: 1 coin = 1 euro.
Top up: through online payments.
Earn coins: user can publish tips with price. Once other users buy the tips, owner can get 70% of the price.
Withdraw: user can withdraw earned coins at anytime.
Points
Usage:

Points are the stake when publish tips.
Redeem VIP Membership.

Value: 2500 points can redeem 1 day VIP Membership.
Get points:

get 50 points daily after login.(only for email verified)
get 500 points after signup.